9 PROMISING HEALTH BENEFITS OF GREEN TEA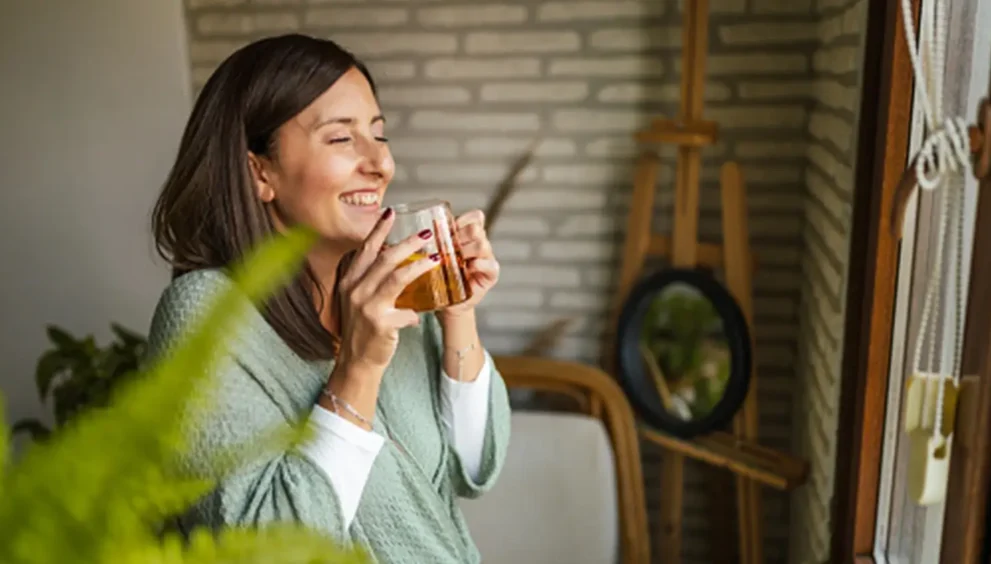 Green tea is good for you. Green tea is healthy. It's no wonder that researchers all over the globe are constantly studying its effects on fighting disease and improving wellness. Green tea brands has been consistently named a top superfood because of its many health benefits. Here are nine amazing green tea benefits that will help you improve your lifestyle and learn more about it.
1. GREEN TEA PROMOTES ENERGY
Green tea has a lot of energy benefits, but without the caffeine crash or jitters of coffee. Green tea contains less caffeine than a cup coffee. For example, a Millennia cup of green tea has 35 to 55 mg of caffeine, depending on the size of the serving. A small-medium coffee roast from major coffee companies has 110 to 170mg caffeine. L-theanine, a powerful caffeine regulator, is more than just a lower caffeine content. L-theanine, an amino acid that crosses blood-brain barriers, has an important function: it promotes clarity, focus, and productivity. Caffeine + L'theanine = Zen-like energy, calm alertness, and lasting power. Also know about top tea brands in India.
2. GREEN TEA MAKES SKIN HEALTHY
Green tea is great for your skin.
Catechins are high in polyphenols which reduce redness, irritation, swelling, and inflammation.
For smoother skin, unclog pores and treat acne.
EGCG is a powerful antioxidant that promotes DNA repair and fights cancer. EGCG can also be used topically or ingested as an anti-ageing agent.
A youthful appearance. Vitamins B2, E and C are abundant in green tea. Vitamins B 2 and C are essential nutrients for the production and maintenance of collagen. Vitamin E is a powerful hydrator that promotes new cell growth for healthy skin.
Green tea's tannins and caffeine help to reduce puffiness and dark circles. They also brighten the area and shrink blood vessels.
3. GREEN TEA BOOSTS IMMUNE SYSTEM
Research has shown that green tea also contains Epigallocatechin Gallate (EGCG), which is a polyphenol antioxidant with the greatest ability to protect your cells from disease. University of Kansas study showed that EGCG was 100 times more effective than Vitamin C, and 25x better than Vitamin E in strengthening our immune system and protecting cells against free radical damage and diseases.
The best source of EGCG is found in fresh, unprocessed tea leaves. Tea is well-known for stimulating the central nervous system, heart function and immune system. Tea leaves should be kept in their natural state, i.e. We can preserve the highest amount of EGCG antioxidants, and other health benefits by flash-freezing tea leaves within 24 hours of harvest.
4. GREEN TEA HELP IN PREVENTING HEART DISEASES
Heart disease, stroke and heart disease are the leading causes for death in the world. Research shows that green tea has the potential to lower total cholesterol and LDL levels (low-density lipoproteins), which are also known as "bad" cholesterol. This may help reduce some of the risk factors for the diseases. The antioxidant capacity of green tea can also be beneficial, protecting LDL particles from oxidation. Don't forget to share funny tea quotes with your friends.This is one aspect of heart disease prevention. Research shows that green tea has a 31% lower chance of developing cardiovascular disease.
5. GREEN TEA REDUCES STRESS
Green tea's most powerful component, EGCG is linked to stress reduction.
Chronic illnesses are often caused by stress and inflammation. EGCG is an antioxidant that protects cells from damage caused by excessive free radical production or oxidative stress. Combining EGCG with L-theanine (an amino acid that is lower in caffeine than coffee) helps to ease anxiety and reduce stress levels. This allows for clarity and focus without the jitters or crash of coffee.
Who doesn't love a warm cup of tea after a long day?
6. GREEN TEA BENEFITS LONGEVITY AND VITALITY
Green tea is known to increase longevity and vitality. Green tea is often called the "fountain of youth" by researchers. The potential benefits of EGCG for skin conditions such as rosacea and psoriasis as well as wrinkles and wounds has been shown.
While wellness professionals agree that there is no magic bullet for maintaining a healthy weight – it is a combination diet, exercise, and mindset – studies have shown that EGCG may be a powerful ally to boost metabolism, energy levels and shed fat.
7. GREEN TEA LOWERS STROKE RISK
According to Stroke: Journal of the American Heart Association's publication journal, drinking green tea regularly is associated with the lowest risk of stroke. Dr. Yoshihiro Kokubo, Ph.D. was the lead author of this study. He stated, "This is the largest-scale study to the combined effects of green tea and coffee on stroke risk." The addition of green tea daily to your diet may be a positive lifestyle choice that can lower stroke risk.
8. GREEN TEA HELPS IN LOSING WEIGHT
Researchers believe that green tea contains EGCG, which is a type antioxidant that can increase metabolism and break down fats. It also increases the body's ability to use energy. The University of Chicago's Tang Center for Herbal Medicine Research discovered that EGCG helped test subjects lose as much as 21 percent of their bodyweight. After just seven days, those who were given EGCG derived from green tea leaves had a reduced appetite and ate up to 60% less food.
9. GREEN TEA REDUCES CHANCES FOR TYPE 2 DIABETS
Green tea has been gaining attention due to its ability increase insulin sensitivity and lower blood sugar levels. This is evident from the rise in Type 2 diabetes cases in recent years. Japanese researchers found that people who drink green tea instead of other beverages had a 42% lower risk of developing Type 2 diabetes.
This superfood is great for your health, whether you enjoy it in a cup or mixed into your favorite smoothies and recipes. We maximize the natural-powerful, life-giving properties of green tea leaves (called Camellia Sinensis). This is done by washing and flash-freezing freshly-picked tea leaves.