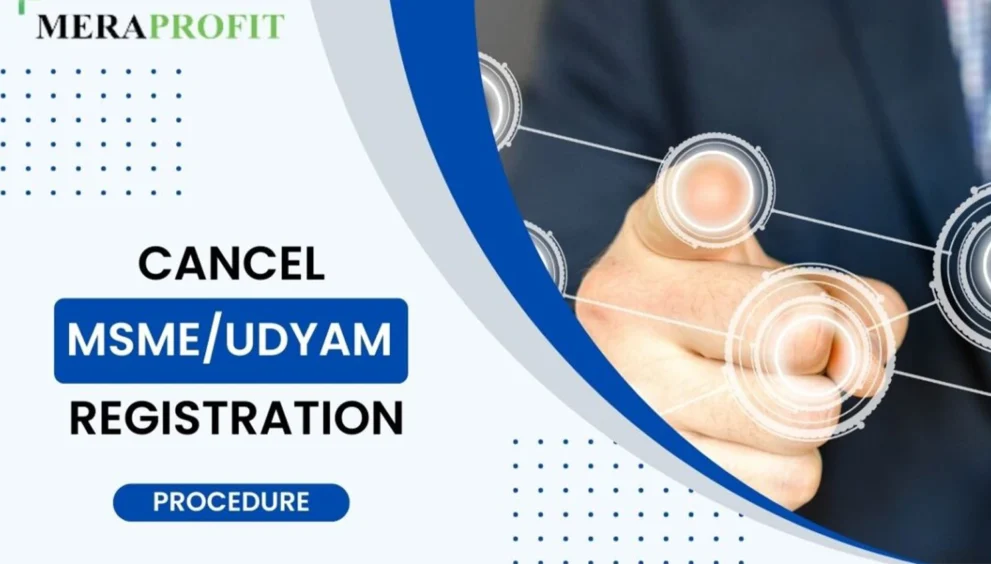 How to Cancel MSME Udyam Registration Online
In a nation like India, micro, small, and medium-sized enterprises constitute the foundation of the economy. The cornerstone of India's financial system is these companies. A company may be categorized as a micro, small, or medium firm based on a variety of characteristics and qualifying requirements. These standards and qualifications are set by the federal government in an effort to help those businesses who really need assistance.
It is crucial to revoke the previously finished MSME registration when a business exits the micro, small, and medium enterprise category. There are various steps that must all be taken through the official government site in order to terminate an MSME registration. But first, we need to look into the requirements for running a company in the MSME sector. We'll go through the details in the next part.
Causes of MSME Udyam Registration Cancellation
There are a few things to take into account before revoking MSME registration. Even when a businessperson tries to modify the business pattern, these factors typically depend on the organization's revenue system. We'll discuss the following two factors in this section:
An organization's revenue can be used to determine whether it is under the MSME sector or not. The company owner must ask to have the MSME registration revoked if the organization's revenue is higher than what is typical for a micro, small, and medium-sized business.
A business person can simply revoke the prior registration if they want to modify how their operation operates in a certain sector. Terminating an MSME registration owing to a change in business is one of the most often cited justifications by persons working in the sector.
MSME Registration Procedure Cancellation
A few steps must be taken in order to cancel an MSME registration. These are all important steps that may be finished on the official website designated for the cancellation procedure. It has been noticed that the cancellation process may be drawn out and difficult if a person is not well-versed in the field of technology. Because an MSME owner is not knowledgeable with technology, this poses a difficulty for the majority of business owners. The transfer of the previous ID is one of numerous procedures that must be finished.
The MSME registration is typically finished when an individual is issued a 12-digit ID that is exclusive to them. The businessperson must turn in all pertinent documentation and this ID in order to terminate their MSME registration. The central government has the right to destroy this ID in the micro, small, and medium-sized business sector. It is one of the most difficult tasks to complete on an internet platform, as was already said.
Cancellation of MSME Udyam Registration Procedure
The processes for cancelling the MSME Udyam Registration are as follows.
Step 1: Visit the Online Udyam Registration Online Portal.
Step 2: Press the Udyam Cancel button.
Step 3: Make a payment in order to finish the cancelling procedure.
Step 4: Our executive will produce an authentication number to confirm that the certificate is yours.
Step 5: You must then provide them the authentication code.
Step 6: An official from our company will take care of cancelling your MSME Registration.
Contact registrationmsme.com for MSME Registration Certificate Cancellation Services.
You may be wondering how registrationmsme.com is involved in this situation. Cancelling a registration is, as was already said, one of the trickiest things to do on the online platform. The proprietor of the MSME trade will have a variety of options when requesting the revocation of the earlier registration.
MSME Registration Certificate
A small business's registration is verified by the MSME Registration Certificate. Through the MSME Registration Portal, a special number is given to people or organizations who register their MSME business. After MSME registration, business owners receive a certificate that attests to their organization.
Benefits of MSME Registration
Capable of utilising government initiatives
Electricity costs will go down.
Subsidies on bank loans' interest rates
Possible participation at foreign trade exhibitions
There is protection in the event that a payment is delayed.
Security of ISO Certification
How to Become Registered as a Micro, Small, and Medium-Sized Business (MSME)
For further info, check out the MSME Registration Portal.
The drop-down choice should say Udyam Registration.
Complete the application form by entering all required data.
Make a payment to process the application.
One of the representatives will handle the application.
Your MSME certificate will arrive in your registered postal address in one to two hours.
Document Required for MSME Registration
PAN, GSTIN, and Aadhaar Cards.
Existing Businesses Can Apply for MSME Registration
According to the notification made on June 26, 2020, all current MSME businesses must register with or convert to a new UDYAM as soon as feasible. By March 31, 2021, any business unit registered through MSME / Udyog Aadhaar will be regarded as a real MSME, according to the revised registration strategy. This implies that all current MSME businesses must register or convert by March 31, 2021, in order to be eligible for MSME Benefits.