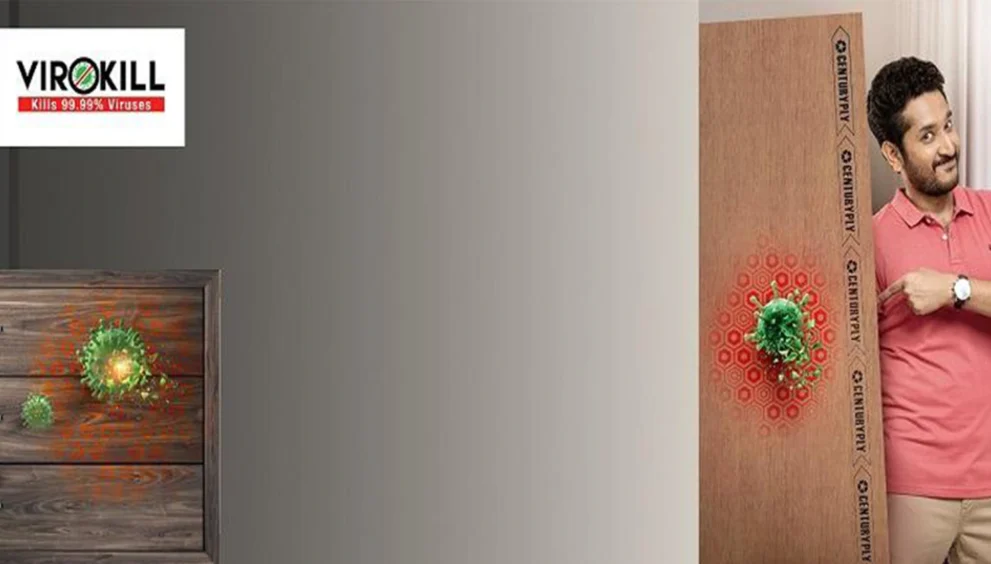 Virokill Technology in Plywood: Reducing Infections & Illnesses
No matter where you live, the air contains millions of microorganisms that are harmful to your health. The primary objective of building a house is to keep your family and loved ones safe and provide them comfort. So, it is important to ensure the safety of your house while giving an aesthetic appeal to your house. But how do we do it? How to ensure the safety of your house?
Read the article to learn about Virokill technology that will ensure the safety of your house from microorganisms present in the environment.
Understanding Virokill Technology
CenturyPly is known for innovations in its products to ensure the safety of your house. One such innovation is Virokill technology which is designed to take the initiative toward the protection of viruses and other harmful microorganisms.
CenturyPly manufactures laminates that are enriched with Virokill technology. This is an advanced technology that is used to stop the spread of infectious diseases from individuals. These nanoparticles are antiviral, antibacterial, and antimicrobial. It has proved to kill almost 99% of harmful bacteria and viruses, thus, ensuring the safety of your house. 
Moreover, you would not have to compromise with the aesthetic of your house to keep your house safe. Thus, it is both visually appealing and protects you and your loved ones from harmful bacteria and other germs.  
How Does Virokill Technology Ensure Safety at Your House?
We already know that Virokill technology helps to ensure safety at your house. But how does this work? Let us know in this section. 
Protection from Virus
In Anti Virus Plywood sheets and laminates, the Virokill Technology covering eliminates 99.9% of bacteria, viruses, fungi, germs, and other dangerous microorganisms. Thus, it helps to maintain your surface and furnishings clean all the time. Furthermore, because the surfaces are already self-disinfecting, it also lessens the need to sanitize them frequently.
Protection of Surfaces
This technology is infused in a wide range of materials, thus, making it a versatile product. They are infused in laminate sheets, ply sheets, and quality veneers. Due to its versatility, it can be used anywhere in the house. These can be used in kitchen cabinets, wardrobes, beds, dining tables, coffee tables, furniture, and many more. 
Non-Toxic
This is another feature of Virokill technology. Since it does not contain any chemicals, it is safe for your kids, especially toddlers who have just learned to walk. It ensures the safety of your children as they can play or touch different objects and it won't be harmful to them since it is non-toxic. Moreover, it will keep them safe due to the Virokill technology present in them.
Non-Depleting Protective Coating
Virokill technology is coated with a layer that ensures that products will not deplete or fade over time. This makes CenturyPly products worth investing in.
Thermostability
This technology is designed in a way that it is non-reactive to heat, moisture, sunlight, or humidity. 
Long-Lasting Effect
The effects and safety of Virokill technology do not fade with time unless it is not physically or chemically harmed. 
Easy to Work with Material
The ply sheets and other products enriched with Virokill technology are strong, durable, and carpenter-friendly. These are also easy to work with the material. As a result, it does not require extra cost to make proper use of it. 
Products Embedded with Virokill Technology
CenturyPly infused Virokill technology into different products. Let us know about the products that are infused with this advanced technology.
CenturyPly plywood
CenturyLaminates
CenturyVeneers
These products give an aesthetic and designer look to your house but not at the cost of your safety. With CenturyPly products, ensure safety at your home without compromising its aesthetic. 
Certifications of Virokill Technology
Can we trust this technology? How do we ensure that these products are safe? Well, CenturyPly understands the concern of its customers. The Virokill technology was tested in laboratories. The claim of CenturyPly is not false but is backed by different certifications that it has earned over time.
The products enriched with Virokill technology were tested in Biotech Testing Services, Mumbai. They were examined based on their antimicrobial qualities. As per the standards of Biotech Testing Services, Virokill technology was certified. 
In a Nutshell
CenturyPly has taken the initiative of keeping every house safe and healthy with its innovation, Virokill technology. It has raised the standard of hygiene in Indian households. Invest in CenturyPly's ply sheets and keep your family and loved ones safe and healthy. Visit the official website of CenturyPly to know more!