Quad Biking in Jaisalmer | Best in Rajasthan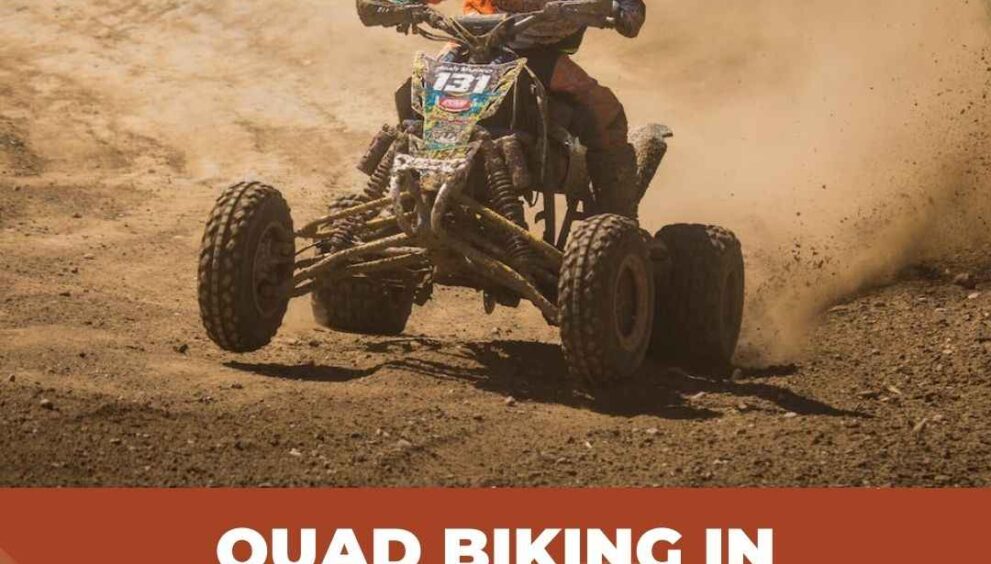 Introduction to Quad Biking in Jaisalmer
Off-grid quad biking in Jaisalmer might be the perfect activity for you if you're looking for a distinctive and daring method to explore the Jaisalmer desert landscape. The Thar Desert provides a thrilling and unforgettable experience when travelling on four wheels because of its vast sand dune fields and rough terrain.
Best time to visit: Quad riding in Jaisalmer is typically available from morning 9 am to evening 6 pm. However, early morning or late afternoon are the ideal times to go quad biking in Jaisalmer. To get the most out of your trip, go to Jaisalmer in the winter.
Quick facts:
     

Location: Jaisalmer's Sam Sand Dunes

     

The event runs from 10:00 am to 6:00 pm.

     

Activity duration: 20 to 25 min.

     

Age: Minimum 7yrs

     

Weight: 120 kgs max.
Prior to going quad biking in Jaisalmer, be aware of:
     

Visitors who want to rent quad bikes in Jaisalmer must abide by state government regulations.

     

To reserve a quad biking excursion, provide the necessary identification. When making a reservation for quad biking in Jaisalmer, PAN Cards are not recognised as valid identification.

     

When booking an excursion, foreign visitors must provide information about their passport and visa. Additionally, make the papers accessible when doing quad biking.

     

Avoid drinking alcohol, and avoid eating large meals right before and right after the exercise.

     

Visitors who disobey directions or the rules for quad biking may be turned away by the instructor.

     

Put on a comfortable outfit that will help you work better.

     

Pregnant women, young children, and infants are not permitted to go quad biking.

     

To avoid a rush, contact the quad-biking location in preparation.

     

Weather affects the action. Unfavorable weather conditions like persistent rain and stiff winds should be avoided.
First and foremost, picking a trustworthy and accountable trip operator is crucial. You should check that the business you select has knowledgeable tour guides, safe and well-maintained vehicles, and a dedication to minimising the negative effects on the environment.
After choosing your tour manager, you'll receive safety gear and a quick orientation on how to use the quad cycle. Although there is no prior riding experience necessary and the bikes are comparatively simple to handle, it is still crucial to follow the given instructions and safety precautions.
Usually, the trip will take you through some of Jaisalmer's most breathtaking desert vistas, from vast sand dunes to rocky canyons, and everything in between. As you race across the sand dunes, enjoying the wind in your hair and the sun on your face, you'll get a fresh view of the desert.
You'll have the chance to pause along the way to admire the scenery, take some pictures, and possibly even chat with locals who reside in the desert. Your guide will be able to give you enlightening details about the local way of life, history, and topography.
The opportunity to see the magnificent sunset over the desert while quad riding in Jaisalmer is one of the highlights. Long shadows are thrown across the landscape as the sun sets below the horizon, bathing the sand dunes in a golden light. It's a memorable experience that you'll remember long after the trip is over.
It's essential to keep in mind that quad biking in Jaisalmer in the desert can be a strenuous endeavor. As such, it's crucial to be in reasonable physical shape and to drink plenty of water while on the tour. You should put on sunscreen and a cap to shield yourself from the sun, as well as loose-fitting clothing that you are OK with getting dirty.
Plan an overnight tour that involves camping in the desert if you want to advance your off-the-grid quad biking adventure. You'll get to experience an ancestral Rajasthani dinner around a campfire, sleep under the stars, and wake up to the breathtaking beauty of the desert at dawn.
It's essential to be aware of the potential risks and take precautions to reduce them, just like with any adventurous action. Be sure to adhere to your guide's instructions, put on the provided safety gear, and always be mindful of your surroundings. Additionally, getting trip insurance that includes adventure sports is a smart move.
Also check : https://adaptiveblog.com/how-to-market-your-online-job/
Conclusion:
Off-grid quad biking in Jaisalmer is an exciting and remarkable way to experience the majesty and glory of the Thar Desert, it can be concluded. Whether you're an experienced adventurer or a beginner, this exercise will undoubtedly leave you with lifelong memories. So why not venture outside of your shell and take a Jaisalmer quad riding tour? You won't quickly forget the experience. Quad biking in Jaisalmer is an experience you shouldn't miss out on when in Jaisalmer. Quad biking in Jaisalmer is the perfect activity for adventure lovers. If you are looking for an exhilarating experience then quad biking is the activity for you. All the thrill lovers get ready for the adrenaline rush this activity brings with it.