Video Monetization: Tips for Making More Money in 2023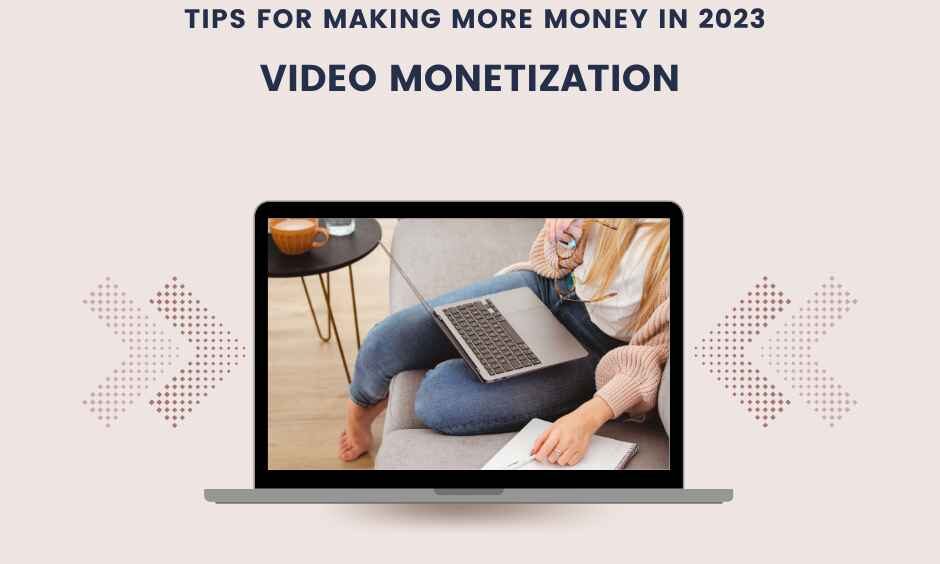 Do you create video content? If YES, then you have countless opportunities to grow your audience base and generate revenue out of it. Therefore, simply releasing your video content and depending on your own or third-party platforms to monetize it via advertisements with video monetization alone is not sufficient. 
As a digital business owner, you should have a better insight into the best monetization video strategies, including upsells, cross-sells, and down sells. Even if your customer base remains constant, you can double your profits by implementing these marketing strategies.
Many of us have these questions in mind – 
What is monetize video meaning, 

How to monetize my video, or 

How to monetize video content/how to monetize videos? 
In this blog post, we have outlined some of the best video monetization tips to help you get started.
Before that, let us define Video Monetization.
What Is Video Monetization
The method of earning money via video content is known as "video monetization." Though the majority of people connect online video monetization with platforms like YouTube or Twitch, you can make money from your video content (whether it is live or on-demand) on any website that your target audience uses. Just the right video content and a monetization strategy are needed.
Now comes the next question, how to monetize video content? Today's content creators can monetize video content in several ways. Charging customers for "access" to the online videos is perhaps the most common method of video monetization. People will pay you to watch whatever you post online. Broadcasters, on the other hand, can earn money by collaborating with sponsors, placing advertisements into content, selling video platform subscriptions, etc.
6 Best Ways for Making More Money Through Video Monetization
The following are the top six video monetization tips you can try in 2023 to increase your income:
1. Make Use of Affiliates and Sponsorships
If you're an influencer, you would have undoubtedly mentioned the products you like in your videos, and a part of your audience will likely purchase them as a result of your recommendations. Therefore, you can create affiliate accounts with your favorite brands or sites, such as Amazon, to monetize streaming videos quickly. So, instead of merely mentioning a product, you can use your affiliate link to direct them to it.
Traditional sponsorships, in which brands pay you to discuss or endorse their products in your videos, are an inevitable move of affiliate marketing. Brands come across if you have a large following, but you must be proactive and react at the earliest.
2. Create New Subscription Packages
The subscription-based video-on-demand (SVOD) model is an ideal and viable option for video business owners looking to generate more income. In 2022, 83% of US subscribers used SVOD services. If you currently have a video subscription business, you can potentially boost your revenue by adding a tier or two. 
3. Sell Merchandise to Your Fans
If you don't sell merchandise to fans, you're wasting your money and passing up an opportunity. Apparel (shirts, caps, bandanas, socks), books , small products (stickers, magnets, buttons, keychains), and digital merchandise such as phone backdropsare the products that are most common for viewers.
4. Install Paywalls for Premium Content
If you currently lack a subscription plan, you can create one or go with a transactional video-on-demand (TVOD) model, where certain premium content gets hidden behind a paywall. Perhaps you will have free stuff on YouTube that is useful, but you go deeper with paid content. It's the perfect marketing strategy for educational channels, and you can even use it to create your own online video course.
5. Sell Advertising Space
Selling advertisements is one of the most efficient ways to monetize your videos. Despite the fact that hosting platforms such as YouTube can handle this for you. Moreover, you'll also need to contact your hosting platform (especially if it's YouTube). Of course, if you've built your video monetization platform, directly selling ad space will be a vital aspect of monetizing your channel.
6. Provide Coupons with Affiliate Links
Well, when it comes to shopping, more than 97% of customers search for deals. Coupons from affiliate partners are another type of affiliate marketing, and offering discounts on your website is one of the best ways to attract more visitors.
So, what are the options?
Add affiliate partner/program discounts to your existing sites.

Inquire with local and national retailers about deals to promote on your website.

Create websites specialized to provide coupons.
Wrapping Up
Implementing one of these video monetization tips into your content business will help you make more money in 2023. Why wait? Get started today! If you're committed and want to take your video content to the next level, we can make it happen for you.