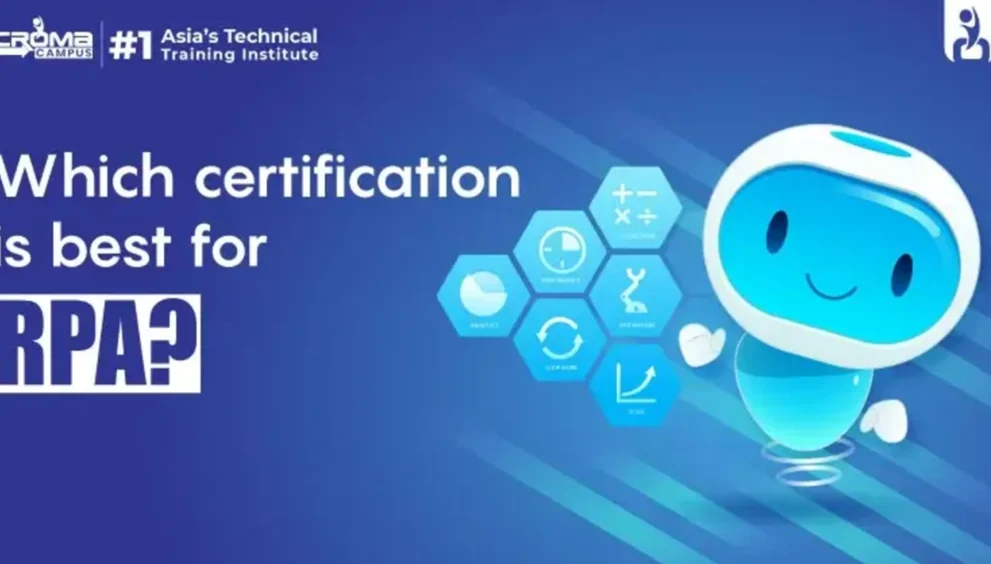 Which Certification Is Best For RPA?
Robotic Process Automation or RPA uses advanced technology by combining machine learning and artificial intelligence (AI) to handle repetitive, high-volume tasks that used to be accomplished manually
Introduction
PA technology uses an interface to capture data and use applications just like humans. They understand certain commands, communicate, and respond to other machines as required in order to perform the same task repeatedly. RPAs basically work faster as they can work continuously and without needing to stop, as well as do not make any errors. To better acquaint yourself with this technology, Automation Anywhere Online Training can guide you in the process. Also, RPAs are a cost-effective option because they usually cost less money in comparison to hiring someone. However, it is advisable to go for a professional RPA certification to get an exceptional start in this automation field.
Let's have a look at some best certifications for RPA:
1. UiPath Certification
UiPath is one of the most popular software options for organizations embarking on process automation. The company provides its own training program that teaches you how to use the UiPath software to its full advantage. UiPath is a common RPA software vendor on the market. However, there are many that offer some kind of training or certification path, whether directly or by a third-party education site, whereas UiPath tends to do both. UiPath is noteworthy, basically because it's free, and also offers role-based training. For business analysts and project managers, usually there is a tutorial for you. There are even RPA developer-focused tracks and other courses aimed at IT pros, like an infrastructure path. The course does not need any background in programming. However, if you know basic programming skills, it will help.
2. Blue Prism Certification
Blue Prism is a leading Robotics Process Automation software with a huge demand in the market. Through this Blue Prism certification course, you will learn about Blue Prism a Robotics Process Automation software. Not only you will learn to develop RPA solutions using Blue Prism. But also, you will learn and understand advanced concepts such as multi-BOT architecture and deployment of Blue Prism in large enterprises. Additionally, Blue Prism provides an RPA foundation certification course for free. The Blue Prism foundation certification course trains you in the fundamentals of Robotics Process Automation. 
3.  Automation Anywhere Certification
Automation Anywhere certification offers the most comprehensive RPA online training. It provides the certification "Advanced RPA Professional Prep + Exam (V11)" usually for free. This certification enables the developers to focus on the knowledge of the product. You can prepare for this certification, by taking Automation Anywhere Online Training in India. It prepares you well for the Advanced RPA Professional Certification – a knowledge-based test on the product and its features and functions. The knowledge you will acquire from this RPA certification is listed below.
4. Pega Academy RPA Certification
Pega Academy offers different certification training such as Integrating Pega and RPA, Pega Robotic Automation Architect Essentials, Implementing Pega Robotic Automation, Pega Robotic Automation Advanced Topics, Introduction to Pega Robotic Automation, Robotic Webinar and more.
5. NICE Robotic Process Automation (RPA) Solutions 
The certification program from NICE is designed to equip you with the skills you require to thrive in the dynamic age of automation. Becoming a certified automation professional is basically an individual journey. That's why NICE has built a flexible program with different certification levels, enabling you to grow your skills and expertise at your own pace. Each level is a prerequisite for achieving the next level of certification. Also, the higher you reach the more enabled you will be to perform independently. 
6.  Arago RPA Certification
Arago is a leading artificial intelligence (AI) company that basically assists businesses to automate their IT processes through intelligent automation. Its proprietary AI platform HIRO (Human Intelligence Robotically Optimized) ™ makes use of reasoning and a knowledge-based problem-solving engine. Certainly, to deliver cutting-edge enterprise IT automation solutions to clients worldwide. Basic courses are also available for individuals for free to promote their businesses. 
Conclusion
With RPA Certification, you become a member of the world-largest community of RPA professionals. Adding global recognition certification to validate your knowledge and skill. Moreover, you get to update your knowledge of recent trends and technologies. So, start your journey soon for RPA certification with certain training and courses.